Welcome!
Spanish Colonial Art was a stunning artistic achievement. It was also a paradoxical one. On the one hand, it was produced in the remote provinces of the Spanish Empire by semi-literate colonial subjects who had never set foot in Europe. On the other hand, it adhered, rather closely, to European canons of artistic form and content.

Fortunately, our paradox admits of a simple solution. Colonial artists used European engravings as models for their compositions. Issuing mostly from Flanders, engravings traveled by the thousands throughout the Spanish Empire. Bound in devotional volumes, laid in the albums of artists, or loose as part of a robust transatlantic art trade, engravings left an indelible mark on all the artistic compositions produced in the Spanish colonies (more).

The goal of the Project on the Engraved Sources of Spanish Colonial Art (PESSCA) is to document the effect of European prints on Spanish Colonial Art. To reach its goal, PESSCA has been pairing colonial works of art with their engraved prototypes and posting them online. As of now, PESSCA has gathered more than 6500 such pairings. And we seek your help to gather more.

Many of the correspondences found in this site have been discovered by PESSCA and appear here for the first time. Others have been mentioned (if not illustrated) in the published literature. Still others have reached us through personal communication. Credit for the correspondences we have not discovered may be found under the images of the colonial pieces. If any of this information is inaccurate, please let us know.
PESSCA aspires to lead an international collaborative effort to identify the engraved sources of Spanish Colonial Art. To support this effort, PESSCA is housed both at the University of California-Davis and at the Pontificia Universidad Católica del Perú. PESSCA also maintains this website in order to facilitate worldwide scholarly communication on the topic. Researchers, collectors, conservators, curators, merchants, and other enthusiasts of Spanish Colonial Art are invited to send us their questions, observations, suggestions, or corrections. All contributions to PESSCA, be they scholarly or financial, will be fully and promptly acknowledged.

Most of the pairings or correspondences posted in this website involve paintings produced in the territories of the Spanish Empire. But a good number of the correspondences included here involve pieces produced in the territories of the Portuguese Empire instead (both empires formed a single political unit under the Hispanic Monarchy from 1580 to 1640).

We will also open the project to pieces that are Colonial in both form and content but were in fact produced, after the Independence, in the early Postcolonial period.

In addition to Archives, this website contains Galleries, which gather correspondences around a common theme or a common origin. If you believe we should open new galleries in our site, please feel free to share your thoughts with us.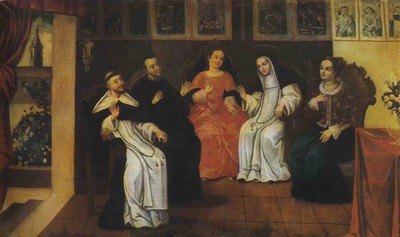 Saint Rose of Lima Meets With the Inquisition (detail).  Signed in Quito, Ecuador, by
Laureano Dávila ca. 1750. Displayed in the background are ten engravings, three of
 which bear the signature Galle used both by Cornelis Galle The Elder and Cornelis 
| | | | | | | | | |
| --- | --- | --- | --- | --- | --- | --- | --- | --- |
| |      | |        | |     | |      | |
| | | | | | | | | |
| | | | | | | | | |
| | | | | | | | |   |